The National Center for Science and Engineering Statistics (NCSES) leads several cutting-edge research projects and initiatives that further our mission on collecting and disseminating objective information on the science and engineering (S&E) enterprise.
Latest News and Announcements from NCSES
Emilda B. Rivers Wins AAPOR Public Service Award
Congratulations to NCSES's Director, Emilda Rivers, on being awarded the 2022 American Association for Public Opinion Research (AAPOR) Public Service Award for her distinguished accomplishments in public service roles, both within NCSES and across agencies. This award honors outstanding public service dedication and recognizes strong commitment to protecting and improving data quality. Director Rivers' accomplishments speak to her exceptional service above and beyond assigned duties. Her contributions resonate across NCSES, the Federal Statistical System, and the U.S. public. Congratulations, Director Rivers!
Federal Statistical System Launches Webpage Devoted to the Standard Application Process
The Federal Statistical System is standing up a Standard Application Process (SAP) for applying for access to federal confidential data assets from any of the
16 federal statistical agencies and units
; the National Center for Science and Engineering Statistics (NCSES) is the project management office for this transformational effort. The SAP aims to streamline data discovery and standardize the application process for federal confidential data assets while promoting civic engagement, increasing transparency, and supporting private-sector decision-making and policymaking at the federal, state, local, and tribal levels. Visit our newly launched
Standard Application Process
webpage to view information about the SAP, including benefits, phases of development, and how to get involved.
NCSES and UVA Collaborate on R&D Technical Report
The National Center for Science and Engineering Statistics (NCSES) and the University of Virginia (UVA) have collaborated to produce a new technical report,
Detecting Federally Funded Research and Development Trends Using Machine Learning and Information Retrieval Methods
, using information contained within a recently retired federally funded R&D grant database, Federal RePORTER. This effort used natural language processing and machine learning techniques to classify research topics in Federal RePORTER project abstracts, and it presents trends in these topics over time. The full report is available
here
.
Ongoing Projects and Initiatives
Advisory Committee on Data for Evidence Building
NCSES's Director, Emilda B. Rivers, is serving as the Acting Chair for the Advisory Committee on Data for Evidence Building (ACDEB). The purpose of the committee is to review, analyze, and make recommendations on how to promote the use of federal data for evidence building. Its duties include assisting the Director of the Office of Management and Budget (OMB) on issues of access to data and providing recommendations on how to facilitate data sharing, data linkage, and privacy enhancing techniques. The Committee, which OMB has delegated to the Commerce Department's Office of the Under Secretary for Economic Affairs, submitted a publicly available annual report on its activities and findings to the OMB Director.
The Year 1 Report is available for review
here
.
America's DataHub Consortium
America's DataHub Consortium (ADC) is a groundbreaking initiative sponsored by NCSES to collaborate with the Federal Statistical System. ADC advances NCSES's mission by supporting exciting activities related to increased data access and sharing, strengthening infrastructure, and promoting innovative analysis across the S&E landscape. An article on this initiative,
America's DataHub Consortium: Seeing — and Understanding — the Entire Elephant
, is available through the National Science Foundation.
Most recently, the ADC awarded five projects totaling $3.5M in funding. The projects aim to provide the government with a more comprehensive understanding of the availability and demand for global science and engineering training and talent.
Committee on National Statistics Panel on Transparency and Reproducibility of Federal Statistics for NCSES
NCSES has partnered with the National Academy's
Committee on National Statistics
to launch a consensus panel study to examine the degree of transparency and reproducibility of federal statistics. This ad hoc panel studied issues related to documenting and archiving statistical data products with the desired objective of enabling NCSES to enhance the transparency and reproducibility of the agency's statistics and to facilitate the improvement of the statistical program workflow processes for the agency and its contractors. The principal questions to be addressed include the following:
What should an agency do to make available, both internally and externally, archives of the original data sets used to generate sets of official statistics?
How should an agency document the treatments conducted on raw data before final estimates are computed (e.g., for treatment of failed edits or nonresponse)?
What is the best way for an agency to record what goes into the computation of the final published estimates?
The full report can be accessed
here
.
Collaboration by NCSES and the Bureau of Economic Analysis on Global Value Chains and Intangibles
NCSES and the Bureau of Economic Analysis (BEA) are collaborating on a new project to better understand production and use of research and development and other intellectual property products in global value chains (GVCs). In partnership with NCSES, BEA just released its first prototype of data on value added trade. These data provide new insights into the way U.S. knowledge- and technology-intensive industries and other sectors of the economy interact in production and trade activities involving GVCs. Check out the new data
here
.
For more information on this project, please contact
Join the Conversation around NCSES Data on the PEERS Forum
Skilled Technical Workforce Initiative
One emerging research area for the National Center for Science and Engineering Statistics (NCSES) is the skilled technical workforce (STW)—individuals who use science and engineering (S&E) skills in their jobs but do not have a bachelor's degree. In response to interest from the National Academies'
Committee on National Statistics
, the National Science Board's
STW Task Force
, and the
Innovations in Mentoring, Training, and Apprenticeships Act
(2018), NCSES has established a STW Initiative in order to guide efforts to measure and understand the STW.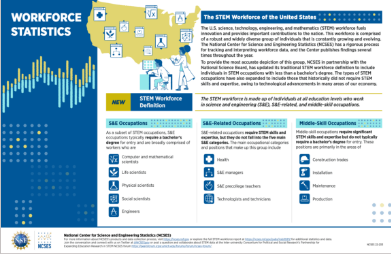 Workforce Statistics: The STEM Workforce of the United States
Learn more about how the U.S. science, technology, engineering, and mathematics (STEM) workforce fuels innovation and provides important contributions to the nation.
View and download PDF
The education, training, and career pathways of skilled technical workers.
The prevalence and interplay of education (postsecondary degrees and certificates), work credentials (certifications and licenses), and work experience programs among U.S. workers.
Additionally, the NTEWS will expand upon other
NCSES surveys
targeting the college-education workforce by providing new data on the workforce who do not have a bachelor's degree or higher. The data from the 2022 NTEWS will serve as the baseline for future cycles and will contribute to NCSES's efforts to assess and support the STW.
Find out more about the STW Initiative
here
.