The National Center for Science and Engineering Statistics (NCSES) leads several cutting-edge research projects and initiatives that further our mission on collecting and disseminating objective information on the science and engineering (S&E) enterprise.
Latest News and Announcements from NCSES
Federal Statistical System Adopts Standard Application Process
The Federal Statistical System has adopted a Standard Application Process (SAP) for applying for access to federal confidential data assets from any of the
16 federal statistical agencies and units
, with the National Center for Science and Engineering Statistics serving as the project management office for this transformational effort. The SAP aims to streamline data discovery and standardize the application process for federal confidential data assets while promoting civic engagement, increasing transparency, and supporting private-sector decision-making and policymaking at the federal, state, local, and tribal levels. Visit our
Standard Application Process
Web page to view information about the SAP, including benefits, phases of development, and how to get involved.
For information on each agency's collection of confidential data assets or to begin a new application, please visit the new platform at
ResearchDataGov.org
.
NSF Leads Analytics for Equity Initiative
The National Science Foundation (NSF), in partnership with the White House Office of Science and Technology Policy, the White House Office of Management and Budget, and other federal agencies, is leading an exciting new initiative that aims to support social, economic, and behavioral science research that leverages federal data and scientific advances in researching equity-related topics for greater public benefit. The Analytics for Equity Initiative links researchers directly with federal agencies seeking to answer key research questions that agencies hope to answer in service of their priorities. The goal is to fund researchers to produce rigorous research and empirical evidence in equity-related topics that both federal agencies and other organizations can use to increase the impact of equity-focused evidence-based strategies.
Resource Library Now Available
Visit NCSES's new
Resource Library
to explore a collection of visual resources that summarize NCSES's work. The library's downloadable resources include survey overviews, topical fact sheets, and infographics that encapsulate findings from
Science and Engineering Indicators
.
Ongoing Projects and Initiatives
Advisory Committee on Data for Evidence Building
The Advisory Committee on Data for Evidence Building (ACDEB) was charged with reviewing, analyzing, and making recommendations on how to promote the use of federal data for evidence building; NCSES's Director, Emilda B. Rivers, served as the Acting Chair for the ACDEB. The Committee's duties included assisting the Director of the Office of Management and Budget (OMB) on issues of access to data and providing recommendations on how to facilitate data sharing, data linkage, and privacy enhancing techniques. The Committee, which OMB delegated to the Commerce Department's Office of the Under Secretary for Economic Affairs, submitted two publicly available annual reports on its activities and findings to the OMB Director.
The Year 2 Report was released in October 2022, and the committee's recommendation is that
America's DataHub Consortium
, an NCSES-sponsored initiative whose aim is to promote collaboration with the Federal Statistical System, should serve as the pilot foundation for the National Secure Data Service (NSDS). The creation of the NSDS was established in the
CHIPS and Science Act
with the purpose of helping data users "securely share, link, and analyze data to support the use of evidence in policymaking." Read the committee's final report
here
.
America's DataHub Consortium
America's DataHub Consortium (ADC) is a groundbreaking initiative sponsored by NCSES to collaborate with the Federal Statistical System. ADC advances NCSES's mission by supporting exciting activities related to increased data access and sharing, strengthening infrastructure, and promoting innovative analysis across the S&E landscape. An article on this initiative,
America's DataHub Consortium: Seeing — and Understanding — the Entire Elephant
, is available through the National Science Foundation.
In 2022, the ADC awarded five projects totaling $3.5M in funding. The projects aim to provide the government with a more comprehensive understanding of the availability and demand for global science and engineering training and talent.
Collaboration by NCSES and the Bureau of Economic Analysis on Global Value Chains and Intangibles
NCSES and the Bureau of Economic Analysis (BEA) are collaborating on a new project to better understand production and use of research and development and other intellectual property products in global value chains (GVCs). In partnership with NCSES, BEA released its first prototype of data on value added trade in December 2021. These data provide new insights into the way U.S. knowledge- and technology-intensive (KTI) industries and other sectors of the economy interact in production and trade activities involving GVCs. For more information on KTI industries, please visit
Production and Trade of Knowledge- and Technology-Intensive Industries. Science and Engineering Indicators 2022.
On 16 March 2023, updated and expanded prototype statistics were published that look more deeply into U.S. exports, revealing the mix of foreign and domestic content used to make exported goods and services (also known as trade in value added; TiVA). TiVA statistics are part of a joint effort between BEA and NCSES to increase understanding of U.S. trade and global value chains—the increasingly complicated supply chains that can link multiple countries together in the stages to produce a final good or service. New TiVA data are available in
BEA's interactive tables
. For more information, please visit BEA's
Global Value Chains
Web page. A
blog
article is also available that offers a closer look at these new TiVA statistics.
For more information on this project, please contact
Join the Conversation around NCSES Data on the PEERS Forum
Skilled Technical Workforce Initiative
One emerging research area for the National Center for Science and Engineering Statistics (NCSES) is the skilled technical workforce (STW)—individuals who use science and engineering (S&E) skills in their jobs but do not have a bachelor's degree. In response to interest from the National Academies'
Committee on National Statistics
, the National Science Board's
STW Task Force
, and the
Innovations in Mentoring, Training, and Apprenticeships Act
(2018), NCSES has established a STW Initiative in order to guide efforts to measure and understand the STW.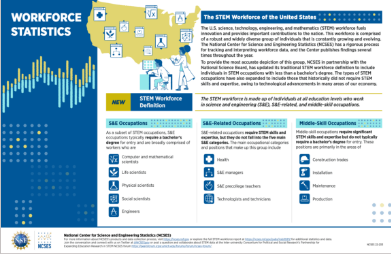 Workforce Statistics: The STEM Workforce of the United States
Learn more about how the U.S. science, technology, engineering, and mathematics (STEM) workforce fuels innovation and provides important contributions to the nation.
View and download PDF
The education, training, and career pathways of skilled technical workers.
The prevalence and interplay of education (postsecondary degrees and certificates), work credentials (certifications and licenses), and work experience programs among U.S. workers.
Additionally, the NTEWS will expand upon other
NCSES surveys
targeting the college-education workforce by providing new data on the workforce who do not have a bachelor's degree or higher. The data from the 2022 NTEWS will serve as the baseline for future cycles and will contribute to NCSES's efforts to assess and support the STW.
Find out more about the STW Initiative
here
.